How to Track & Complete Actions
I've been assigned an action, what happens next?
A key component of Teamgage Huddle is reviewing results with your team and ideating and aligning on ideas for improving performance. As part of this process, you may be assigned an action to complete.

If you've been assigned an action it's your job to ensure the task is successfully completed on time. You'll receive a notification informing you of the action you've been assigned and its due date.


Below is an example of an action notification.
Actions Reminder

We will help you stay on top of the actions that have been assigned to you. You will receive a reminder 3 days before your action is due.


Below is an example of an action notification.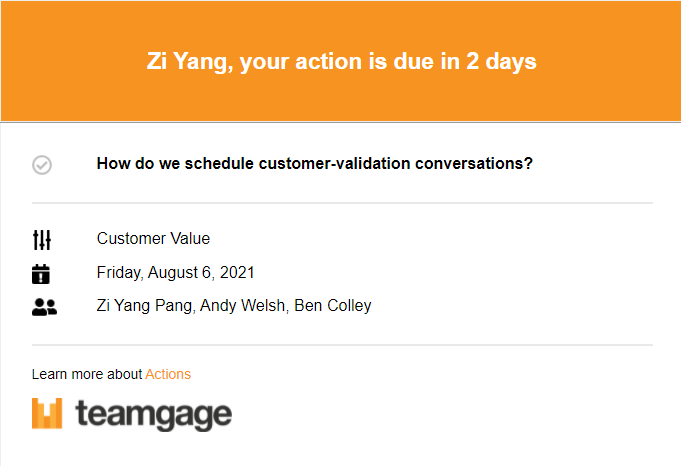 When you next open your Results Dashboard with your team, you'll be prompted to review your assigned Actions with your team - this is a great opportunity to share an update with your Team or to mark an Action as complete.

Below is an example of the actions review screen as part of your Teamgage Huddle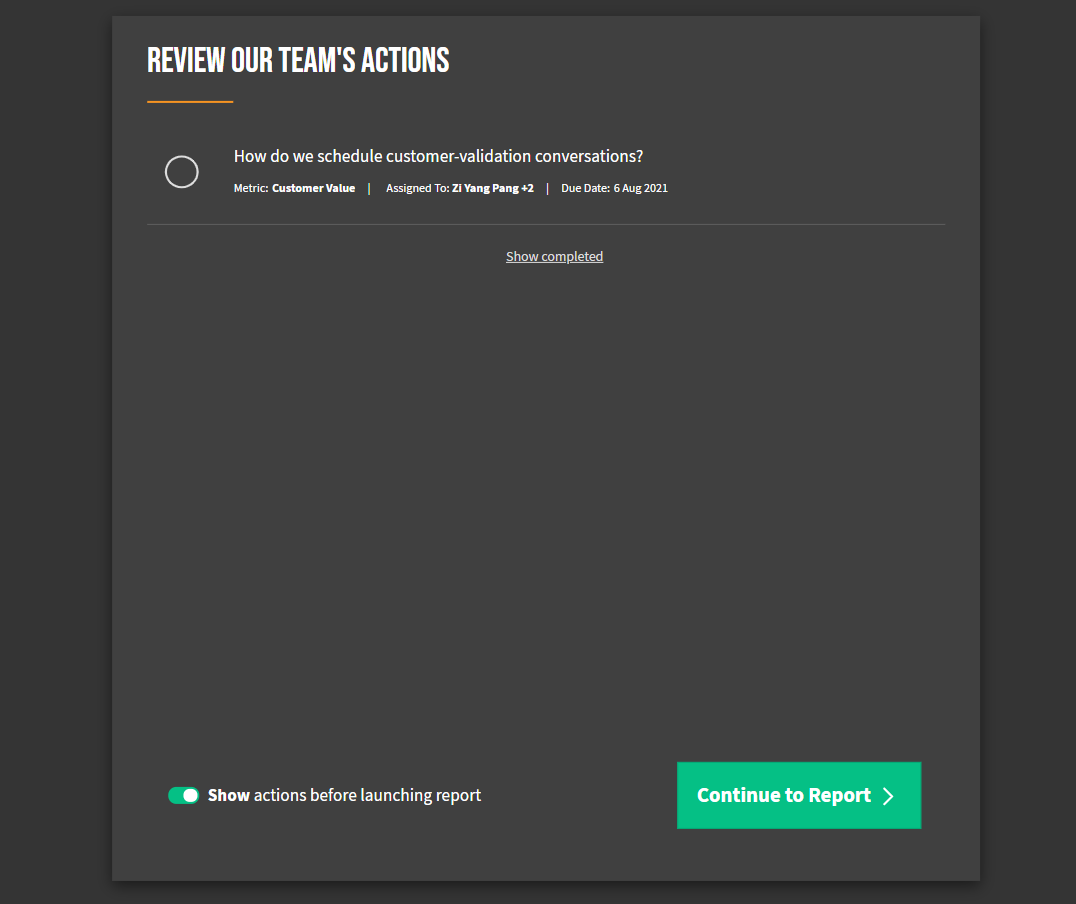 Completed Actions

Once an Action has been marked as completed it will disappear from your team's Action tabs and you'll receive a message confirming it's been completed.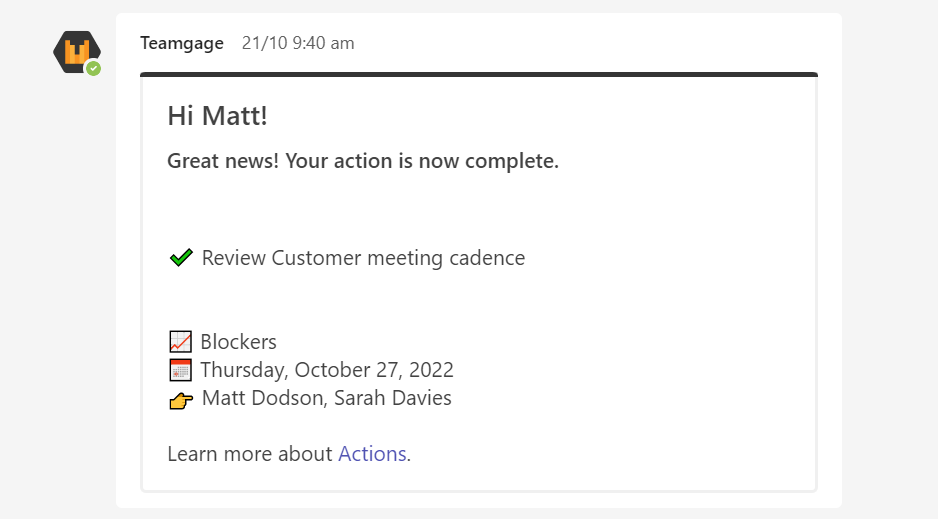 Below is an example of the action completed notification.
Review Completed Actions
Managers can easily review their team's completed Actions by following the below steps.
Open the Actions tab (it's in the bottom right corner of the Dashboard)

Select the "Show completed" option in the middle of the Actions tab.

Voila
Related Articles

How to Create & Edit Actions

Introduction to Actions Analysis without action is wasted energy which is why tracking actions is so important to the continuous improvement process. The Actions tab is conveniently available to you at all times on the bottom right. As soon as you ...

Add Additional Team/Area-Specific Metrics

You can add team/area-specific metrics to the core metrics applied to your entire organisation. This is a great way to empower teams whilst retaining your company-wide metrics. You will need to have an Admin profile to access Tools & Setup in ...

How To Increase the Number of Your Team's Comments

Suggestions for increasing the number of comments and ideas generated in Teamgage Huddle Comments are critical to understanding what's going on and potential Action we can take. Increase the number of comments in your dashboard by: Explaining ...

How Often Can I Make a Teamgage Huddle Submission?

Your team's dashboard will only reflect your most recent submission. The scores that you see are the average of every team member's last submission. If you complete Teamgage multiple times, only your most recent score counts. We do capture every ...

Leader Training Video Series

Training Videos for Leaders The short training videos below are designed to share with leaders or those who run Teamgage meetings. They are an in-depth look at the Teamgage process and demonstrate how you might do this in a team meeting scenario. ...