Teamgage Report on Mobile Devices
We have now introduced our new mobile version of the Teamgage Report.
This allows you to get the latest insight of how your team is performing using your latest phones.
Here's a demo of what you can expect when you view your latest results on your phone.
Currently we have only the dashboard and comments page on mobile. To enable the full experience of the Teamgage report, please view your report on your computer's browser.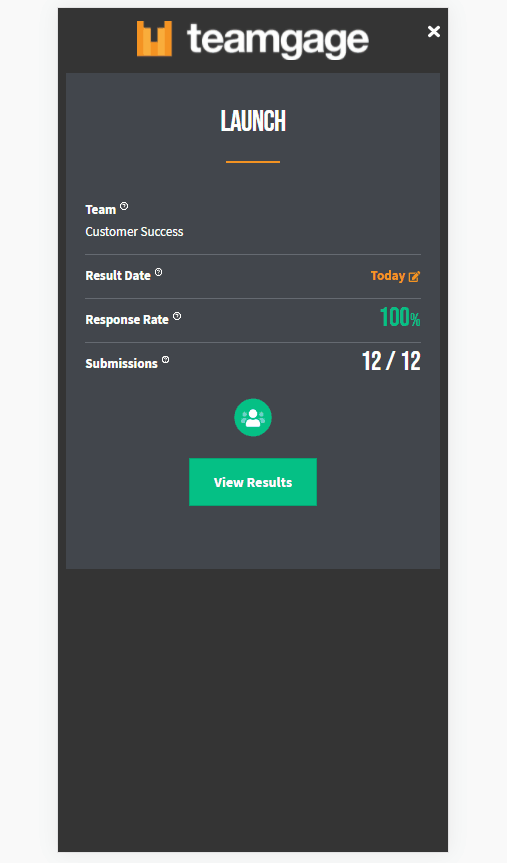 We would love to hear your feedback and what we can include in our next iteration of our mobile experience.
Related Articles

Benchmarking with Teamgage

Benchmarking reports allow you to compare and contrast results across your organisation for both Huddle and Surveys. Use these reports with your leaders to identify areas of innovation, teams that are doing well, or spot the risks and those that need ...

View your team's dashboard

You must have a Leader profile to view your team's reports in Teamgage. If you cannot see the 'Reports' section after logging into Teamgage, please contact our support team at support@teamgage.com. Teamgage puts you and your team at the heart of the ...

How to provide access to a benchmark report

Provide specific leaders with access to a benchmark. Select Benchmarking > List from side navigation Select Edit on the report you'd like to update Select the Viewers tab Add a specific viewer Select the level of access e.g. if they can "select ...

See your personal Teamgage progress

After you complete your next Teamgage submission tap the View button alongside the title Your Teamgage Process. This will give you a personalised view of your own Teamgage submissions - and how they compare against the Group Average of your Team. ...

Teamgage Notifications

As your team start their continuous improvement journey, they will receive various notifications from Teamgage. These are all focused on helping your team work better together. By default, notifications are sent to the nominated email address of your ...