Single-Sign-On (SSO) Login Issue - Access Denied
A few things to check
Firstly, ensure the your organisation has setup SSO with Teamgage (Check with your System Admin or just email support@teamagge.com)

Confirm the email registered with your organisations SSO matches the email of your user profile Teamgage

Double check, your browser (eg. Google Chrome) isn't trying to "helpful" and automatically replacing/auto-filling the email you've typed, with another address (eg. your personal @gmail)

Try to log in using a new, Incognito Web Browser window

Access Denied

If you are seeing this screen (or something similar, simply email our team at email
support@teamagge.com
. Be sure to include your work email & your organisation name. A screenshot of the error is also generally helpful as well.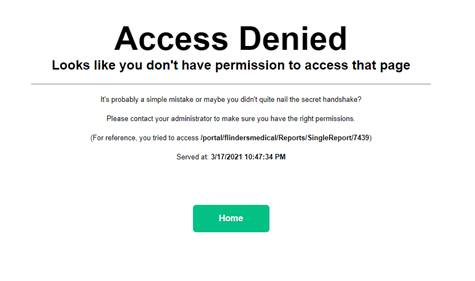 Related Articles

Single-Sign-On (SSO) Options

Single Sign-On simplifies your organisation's experience when using Teamgage. Teamgage support multiple SSO options, depending on what best suits your organisation's IT environment. Azure AD This is the simplest method for organisations with Azure ...

Single Sign-On - SAML Setup Guide for ADFS

This guide demonstrates how to configure Active Directory Federation Services (ADFS) as an Identity Provider for Single Sign-On with Teamgage. Not using ADFS? Teamgage also supports other SSO options. Before You Begin To simplify setup, please check ...

Single Sign-On - SAML Setup Guide

Using SAML authentication to provide a single sign-on experience for your organisation's users can enhance your users' experience in using Teamgage. Note that for users who only use Teamgage to submit their results and comments, we do not require ...

I Can't Access My Team Results Dashboard?

If you're having problems accessing your Teamgage Results Dashboard, you can follow the below steps. How to access your team results dashboard Follow the link in your Teamgage notification or simply log into Teamgage using this think. Tip: check your ...

Azure AD Setup Guide (Single-Sign-On and Microsoft Teams)

The Azure Active Directory (Azure AD) integration for Teamgage enables your employees to use: Single Sign-On (SSO): Login to Teamgage with one click, allowing seamless access to your Teamgage account Microsoft Teams: Access reports, leave feedback ...