What are my team's Shared Results?
Welcome to your team's Shared Results.

You've just received a link to your team's Teamgage Results Dashboard! This gives you visibility into where your
Teamgage submission is going and how its contributes to your team's improvement.

Shared Results is a new feature so we want your feedback - send it to
support@teamgage.com
. Your ideas, frustrations, and points of confusion will go directly to our product & software development team. And if you're really keen, we'd love to actually jump on a call & speak!
So what is this?

Shared Results is all about giving you transparency into your team's results! You can understand what's working (Eg. Green metrics), what needs focus (Eg. Amber & Red metrics), and how those results are distributed across the team (this is called "Spread"). You'll also be able to see the Comments that other people from your team are submitting*.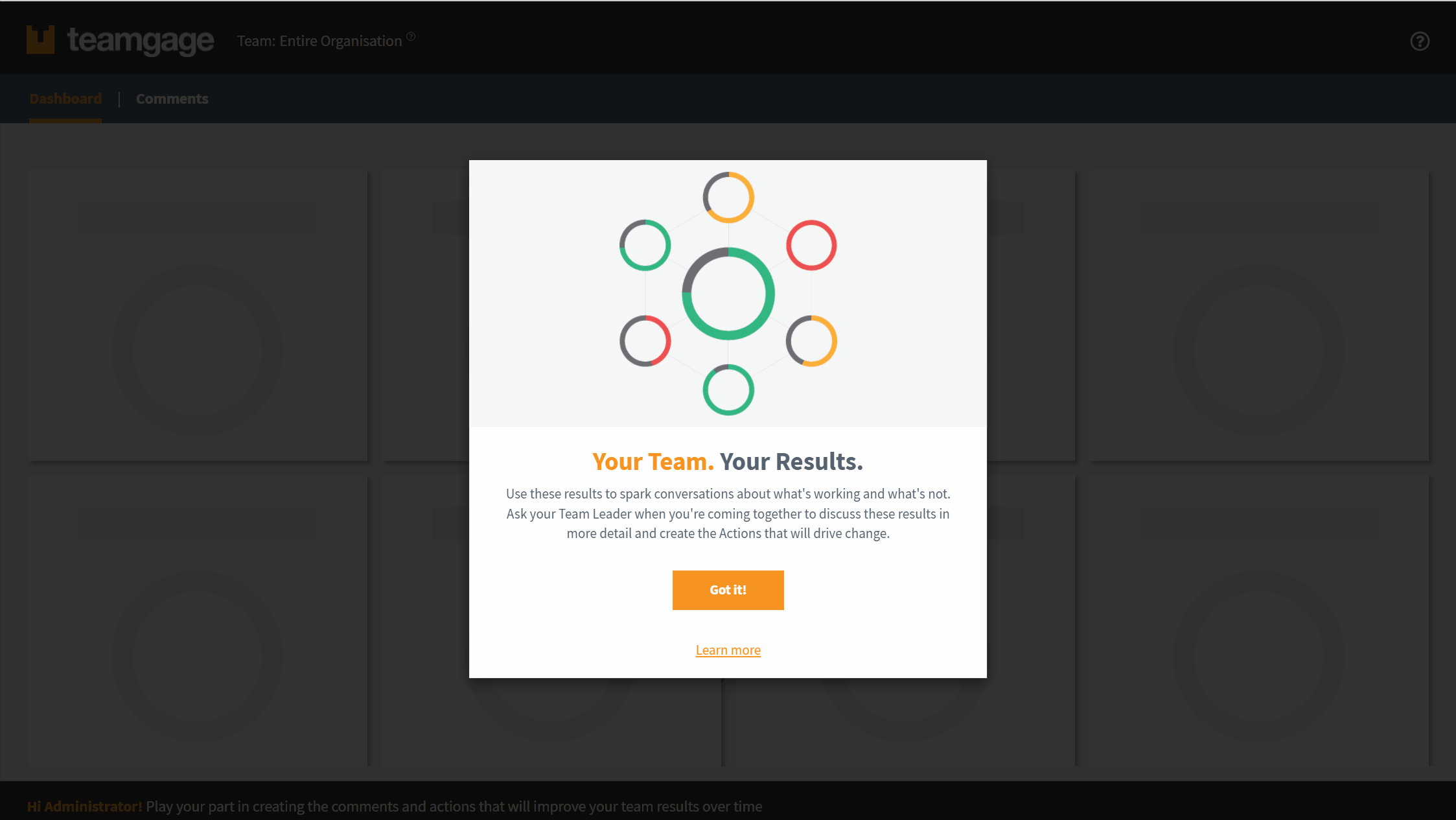 *When a Team Leader decides to Share Results, they may choose not to share the Comments page of the team's Dashboard.

Understanding your team's Shared Results

If it's the first time you're viewing your results, you may be asked to create password (Learn more about password creation here) - otherwise you'll be directed to your team's Results Dashboard and Comments. If Teamgage is part of your regularly team meetings, this should look quite familiar. On the Results Dashboard you can see:

Metrics: Use each Metric to understand what's important to your team (and your organisation) and identify what's working well. And what perhaps need focus or a new approach. Your team's Metric score will go up and down overtime and that's completely fine. These gauges are like the engine light in your car or the altimeter in plane - a simple guide to understand what's happening in team and where to make change.

Spread: All submission are anonymous, but Teamgage can show the range, or spread, of these submissions. Use the spread to understand how well the team is aligned on a specific Metric.

Change: The Change will show you how this specific Metric is travelling since the last set of results. Has the Metric score gone up based on specific Action, decreased due to a lack of focus, or simply stayed the same.

Comments: Use Comments to see the ideas, praise and challenges that your team mates are including with their anonymous Teamgage submission. Comments should be the conversation start for the Action you create as a team to drive continuous improvement.
What do I need to do next?

Nothing. Well, other than actually look at them!
Ideally, you will come together with your Team Leader to discuss these results - this may be a dedicated Teamgage meeting or simply during your next team catch-up. At Teamgage, each of our teams review their Results Dashboard on a Friday afternoon. This is an opportunity to see what Results have changed over the week & create Actions for the week ahead.
That said, you don't need to wait until your team meeting. W
e also know that sometimes getting everyone together at the same time can be hard to coordinate. With access to the Results Dashboard, you can start the conversation now and then continue it at the next whole team meeting. Come prepared with the Comments you want to explore further and the ideas for the specific Actions you think can make changes!
If you have any questions about Teamgage or this new Shared Results feature please let us know - reach out to support@teamgage.com.

Related Articles

Welcome to your team's Shared Results

Welcome to your team's Shared Results Shared Results is a new feature so we want your feedback - support@teamgage. Please share your ideas, frustrations, & any points of confusion! With Shared Results, each individual team member has equal ...

Why are my Shared Results Locked?

To view your team's Shared Results dashboard (Learn about Shared Results), you will need to have personally completed a Teamgage Submission - this will take less than 1 minute (Learn about Submitting). What happens if you try to open your team's ...

Change a user's team assignment

Assigning Users to Teams In order to submit feedback, a User must be assigned to a Team. A User can be assigned to multiple Teams. Note: assignment to multiple Teams means that they will be able to submit separate feedback to the different Teams. ...

How do I check who's in my team & contributing results?

People move around organisations all the time. They may join an organisation or leave. They may be seconded to another department or simply join a second team for a specific project. At anytime you can easily check who's in a team & who can ...

Filtering Team results using Demographic Tags

To manage your users' Report access & provide access to subfilter Reports you will need to have an Admin profile within Teamgage. If you can't see that section, speak to your Teamgage Admin or contact our Support Team (support@teamgage.com). ...