Creating Actions

One of the key parts of a continuous improvement process is creating Actions. These are those incremental changes, inspired by a team's ideas and comments, that can fundamentally enhance the way a team works and the impact they have.

Every Action created in Teamgage has a few simple details:
Action name/description

The Metric this Action is associated with

The Assignee(s)

A Due Date

And of course an Action can be considered Open (Eg. outstanding) or Completed.




Once an Action has been created the

Assignee(s) will be notified and the Action will be added to the Action Listing screen.




When you next open your Results Dashboard with your team, you'll be able to review your outstanding Actions - this is a great opportunity to share an update with your Team or mark an Action as complete.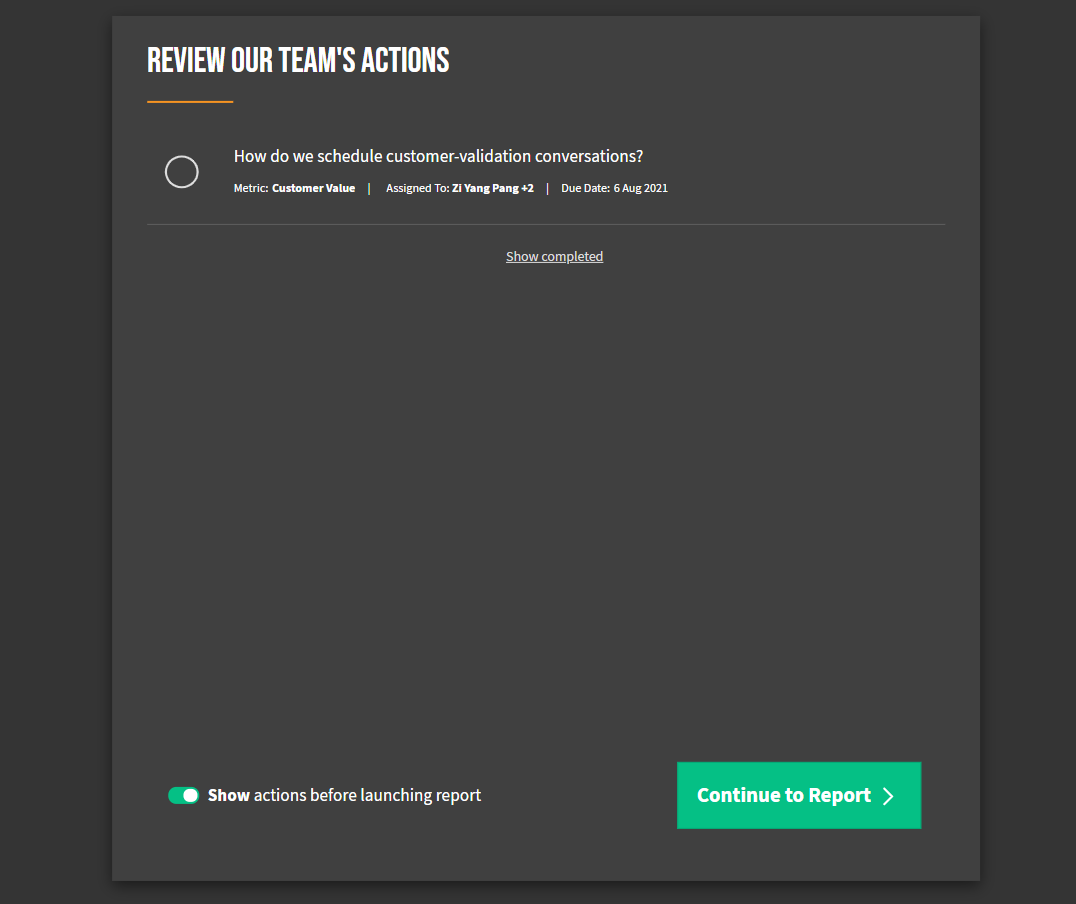 An example of the notification when you're been assigned an Action
A example of the Action Reviews screen
How to create an Action

During a team meeting you can easily turn specific comments into an Action or simply creating an Action based on ideas being discussed.


Create an Action from a comment

Hover over the Comment




Tap the ➕ icon




Review the Action description & the Metric (this will be the exact words from the comment & the Metrics the comment was about)




Add an Assignee(s)* & a Due Date

Create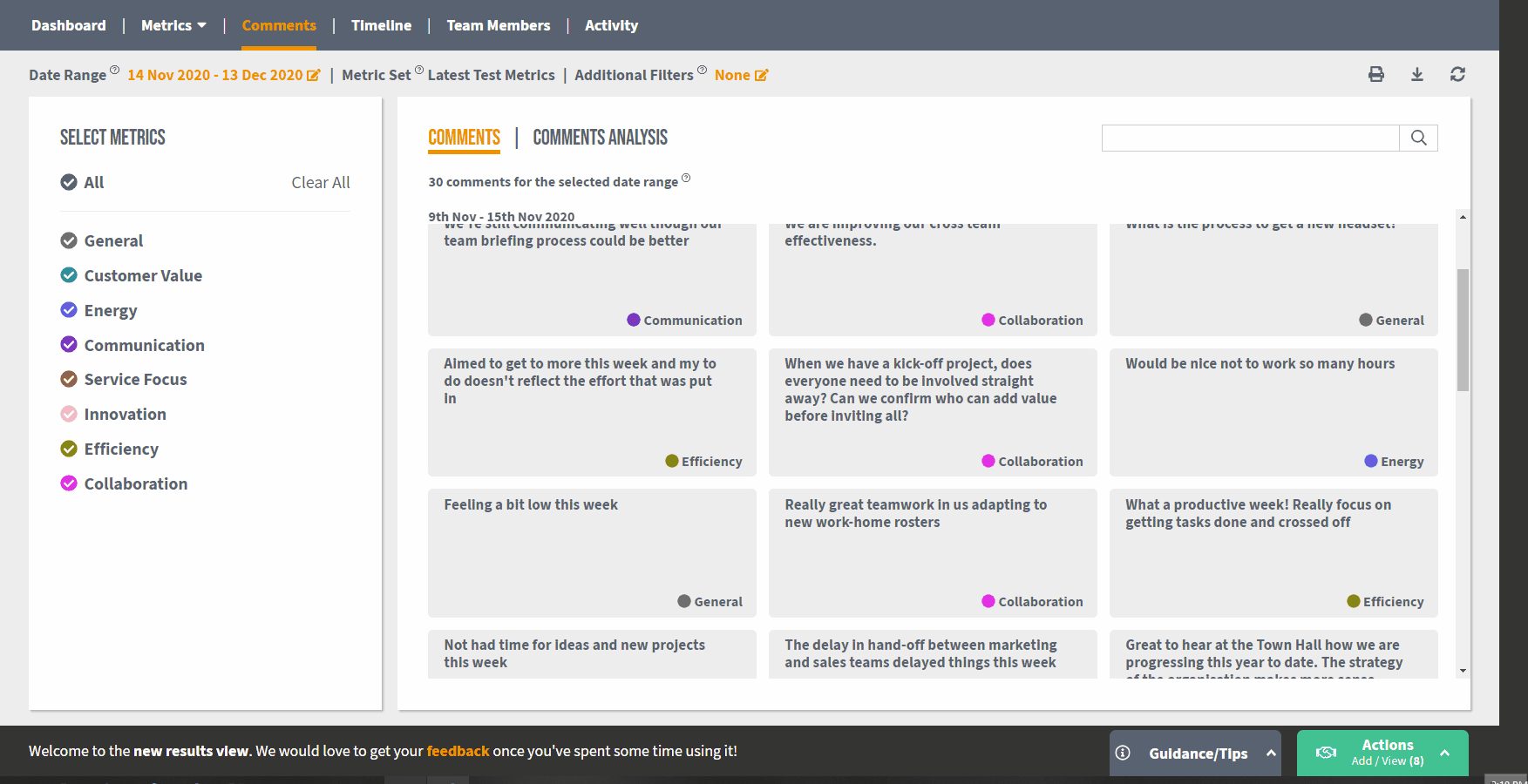 Creating an Action

Open the Actions tab (it's in the bottom right corner of the Dashboard)

Create your Action description

Add the Metric, an Assignee(s)* & a Due Date

Create
*You can search first name, last name or email address. If you can't find the person you're after that may not be in your Team (Learn more here).

Editing an Action
Open the Actions tab (it's in the bottom right corner of the Dashboard)

Click on the Action you want to edit

You can also click on any of the field to edit a specific field

Click away and your actions will be saved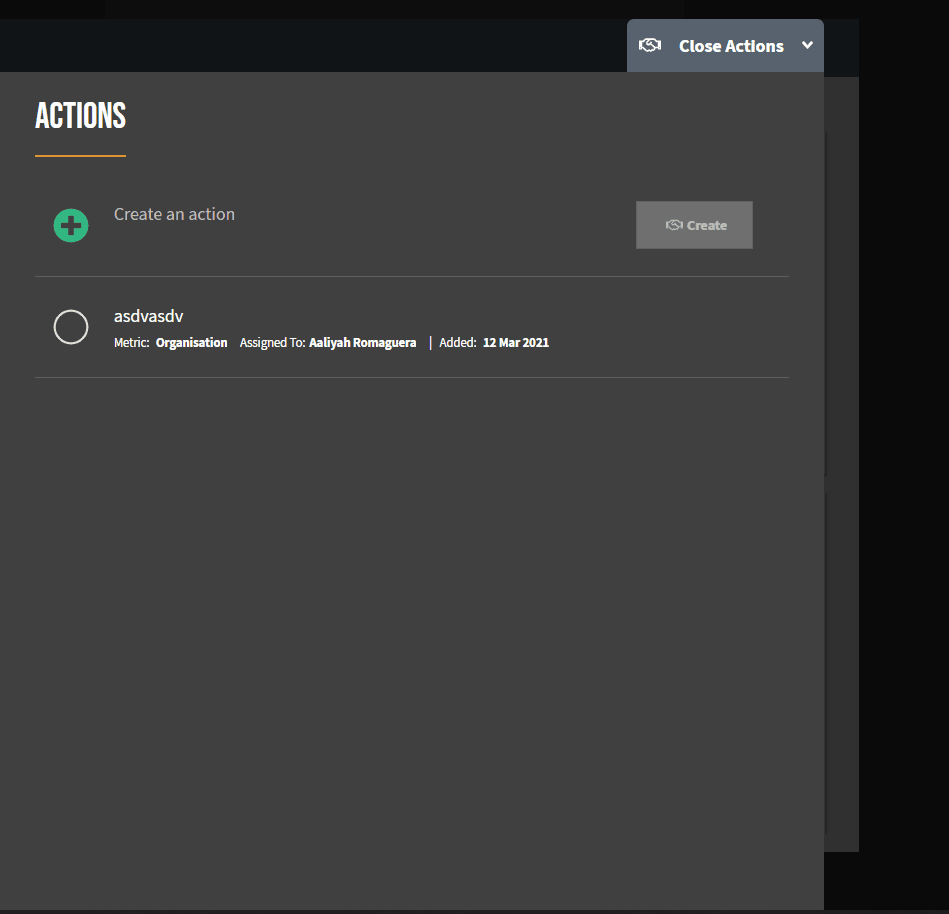 Actions Reminder

We will help you stay on top of the actions that have been assigned to you. You will receive a reminder 3 days before your action is due.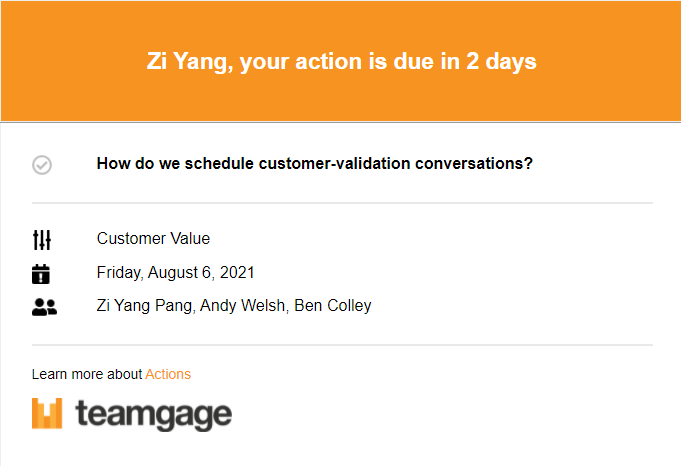 Completed Actions

Once an Action has been marked as completed it will disappear from your Action tabs. That said, you can easily review your team's completed Actions at anytime.
Open the Actions tab (it's in the bottom write corner of the Dashboard)

Select the "Show completed" option in the middle of the Actions tab.

Voila
Tips for creating Actions
Make it clear and make sure it is something you can control within the scope of your team.

Think about which Metric this Action is for. Metrics are usually the most important areas of focus for your team so it make sense this is where you're making improvements. That said, we also have a "General" option as well.

If you're a Team Leader, make sure you're not simply assigning everything to yourself. Use your team and empower them to complete the tasks as well! Team engagement is all about shared responsibility and ownership.

At the beginning of your team meetings, make sure you discuss the existing Actions; mark them as complete, update due-dates or discuss the ones that are blocked.

Updated 11th August 2021.