How to check the Response Rate for a specific team?
The article will step you through how to check the Response Rate for a specific team.
Login into Teamgage

Select Report and then List from side navigation (on the left of the screen)

Search for the name of the specific Report/Team

Click the Report button (its on the far left side from the team)

This will open the Launch screen and let you see the see the
Response Rate
(in the Details panel) for that specific team.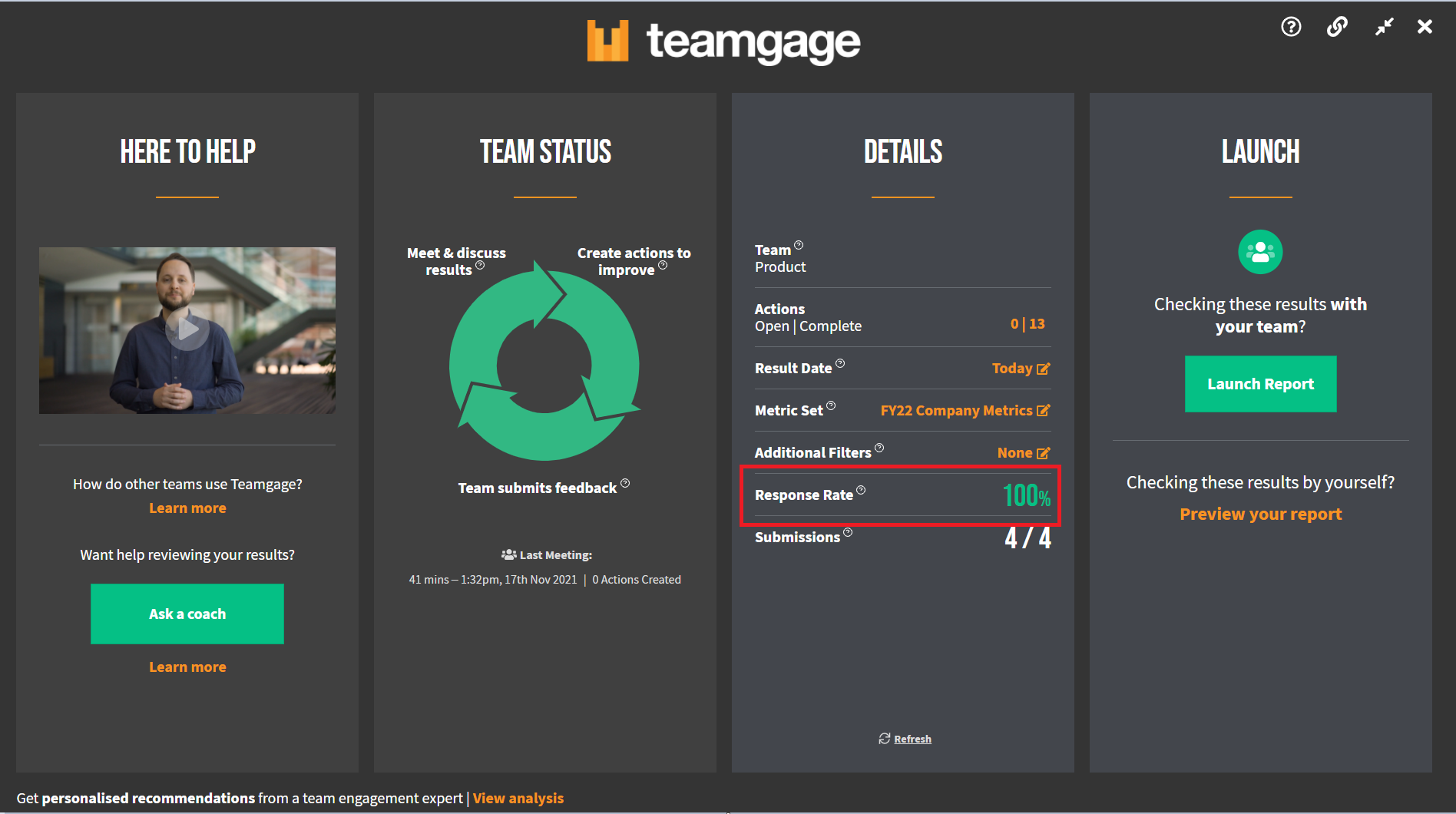 If you think the Response Rate is a little low, you can always tap the
"Remind Team to Submit"
button (
Learn more about reminding your team to submit
).
Related Articles

Remind your team to submit

New alerts, new notifications, and new messages. Our days are filled with so many updates that sometimes things get missed. But we know everyone wants to have their voice heard. And the best organisations want their people to speak up, share more, ...

5 ways to boost your submission rate

You've decided to engage your employees and you're giving them the opportunity to have their say - here's some advice to improve your employee submission rates: Tip 1: Get your CEO and Senior Leadership team involved We believe that any effort to ...

How do I check who's in my team & contributing results?

People move around organisations all the time. They may join an organisation or leave. They may be seconded to another department or simply join a second team for a specific project. At anytime you can easily check who's in a team & who can ...

How to boost your response rate?

Tips and tricks on how to improve your team's response rate in Teamgage To ensure an inclusive process and deliver meaningful discussion, every team should aim for a 70%+ feedback submission rate. The key is demonstrating 'active listening' and ...

How to Change Team

Changing your Team within Teamgage Your feedback is most useful when it's being shared with your team. Use this article to learn how to shift into the right team within Teamgage so that you can be confident that your submission goes to the right ...