Set up Microsoft Teams notifications for your organisation
This article will show you how to configure Teamgage to send notifications via Microsoft Teams, for more information on this feature please visit
this article
.

You must be an administrator of your Teamgage account in order to configure this feature. If you are not and you believe you should be, please contact your internal Teamgage representative or get in contact with us
here
.
Navigate to the integrations section of your Teamgage account

Log into Teamgage (https://www.teamgage.com/Account/Login)

Click the Integrations section in the left-hand side menu

You should see a page similar to the one shown below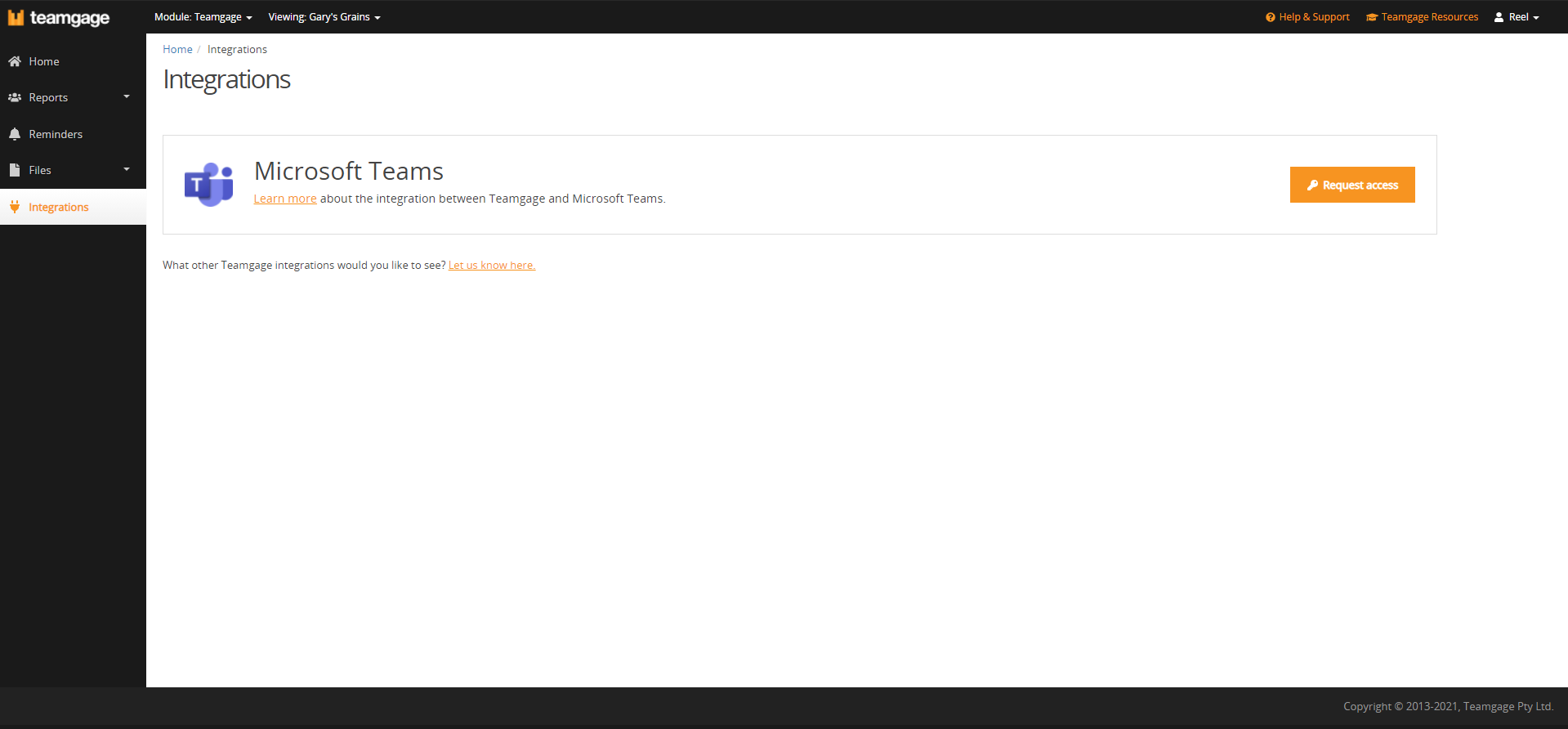 Request access

If you see the
Request access
button, click it.
This will let our team know that you wish to use the MS Teams integration and we'll get in contact with you to arrange any further information we need to set it up.
Configure the integration

If you requested access, a team member will be in touch with you shortly to notify you via email that we have set up the integration.

After receiving this notification, navigate to the integrations page again. The Request access button will be replaced with a toggle switch which controls whether Teamgage notifications will be sent to users in MS Teams (an example of which is shown below).

If you wish to enabled/disable the integration, simply click the toggle switch and the update will be saved.


Install the Teamgage Microsoft Teams app


Only users who have the Teamgage MS Teams app will be able to use this integration
Visit
this article
for help with installing the Teamgage app for Microsoft Teams.
Related Articles

Install the Teamgage App for Microsoft Teams

Installation Types The Teamgage Microsoft Teams app can be installed in two ways: Personally: This allows the user who installed the app to receive their regular Teamgage notifications directly to their MS Teams chat inbox. Within a channel: Has the ...

Teamgage for Microsoft Teams

Engage your teams with Teamgage for Microsoft Teams Did you know that your team members are able to use Teamgage all within the Microsoft Teams platform! Our new integration allows Teamgage users to receive their regular Teamgage notifications, share ...

Teamgage notifications through Microsoft Teams

As part of being on Teamgage, you will receive system notifications from Teamgage on a regular basis on Microsoft Teams if your organisation is using it. Here are the communications that you can expect to receive from us through Microsoft Teams. User ...

Teamgage Notifications

As your team start their continuous improvement journey, they will receive various notifications from Teamgage. These are all focused on helping your team work better together. By default, notifications are sent to the nominated email address of your ...

How to change your organisation's metric set?

You will need to have an Admin profile to access the Reports section of Teamgage. If you can't see Reports speak to your Teamgage Admin or contact our Support Team ( support@teamgage.com). If you have recently created a new metric set, or you need to ...