Your organisation is already using Teamgage to continuously engage teams from the ground up. But what about when you need to run a more traditional survey to gain further organisation insights?
Meet Teamgage Surveys!


Using a new quick and simple interface, create a survey with the questions of your choice and then choose when and where to share. The anonymous results update in real-time and can be easily benchmarked, filtered and exported.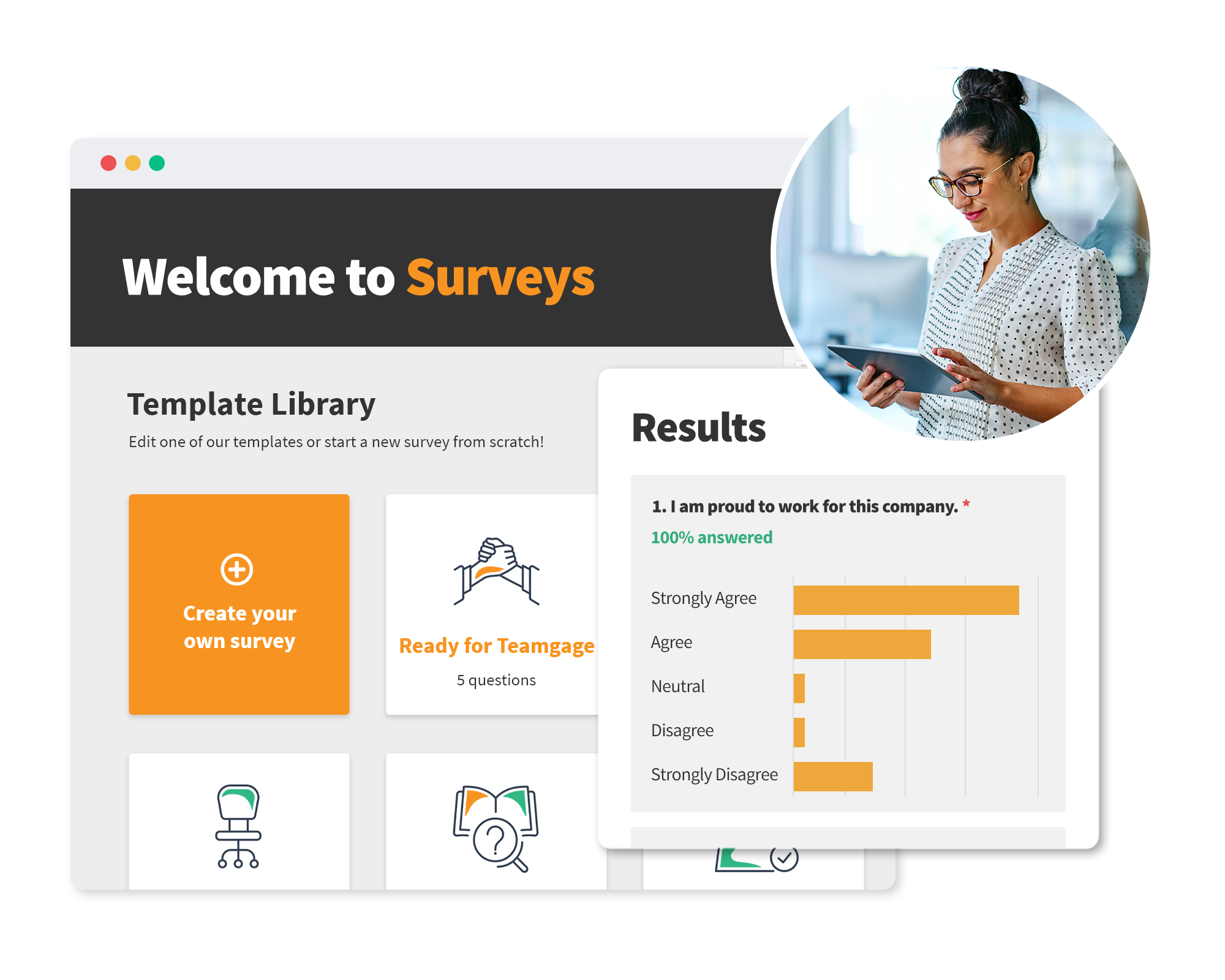 Key Benefits
Don't wait - just create and send

The
world has changed and work is different - now more than ever you need a way to ask questions and get answers. That could be a full annual survey for the whole organisation or a couple of quick questions for your IT Team about their latest project. Teamgage Surveys is designed so you can just go in and create your Survey, check the Preview and send.
Greater question flexibility

Teamgage Surveys is perfect for 1 question or 10, to 10 people or 10,000. Questions types can be long answers, short answers, multiple choice or even a Likert scale! You have a question? We have the answer....

Leverage your Teamgage data

You might have created your own survey before, but then spent ages compiling who it will be sent to. Well the good news is that Teamgage Surveys is able to leverage all of that amazing data we have on your people and teams structures. This means that when it comes to sending your brand new Teamgage Survey, you just need to click entire org or the teams of your choice and you're done!

Recipients will receive a link to your survey through their usual Teamgage notification channel, whether that's an email or Microsoft Teams message.
Real-time results just for you

Once 4 or more responses are received, your survey results will display in real-time through a series of charts. If you need to filter by team, benchmark results across your organisation, export the data or even give specific users access to their team results, you can do all of this from Teamgage Surveys.

If you would like to gain access to Teamgage Surveys, contact your Customer Success Manager today.