Why are my Shared Results Locked?
What happens if you try to open your team's Results Dashboard before you've made a Teamgage submission?
Get notified that your team's Shared Results is ready to view (you'll be notified by email or on Teams)

See the "We need your Teamgage Submission" screen (see below)

Click Have your Say & complete your Submission (Learn about Submitting).

You will be automatically redirected back to your team's Shared Results dashboard


IMPORTANT NOTE:
The metrics & comments in Teamgage Submission you have just completed, to unlock the dashboard, will not be included in these Shared Results. This is because the specific results you're looking at were shared before you had completed Teamgage Submission. If your Manager re-shares the team's results (for example, the next day) your Submission will now be included
If you have an issues contributing a Teamgage Submission or unlocking your team's dashboard, just let us know - support@teamgage.com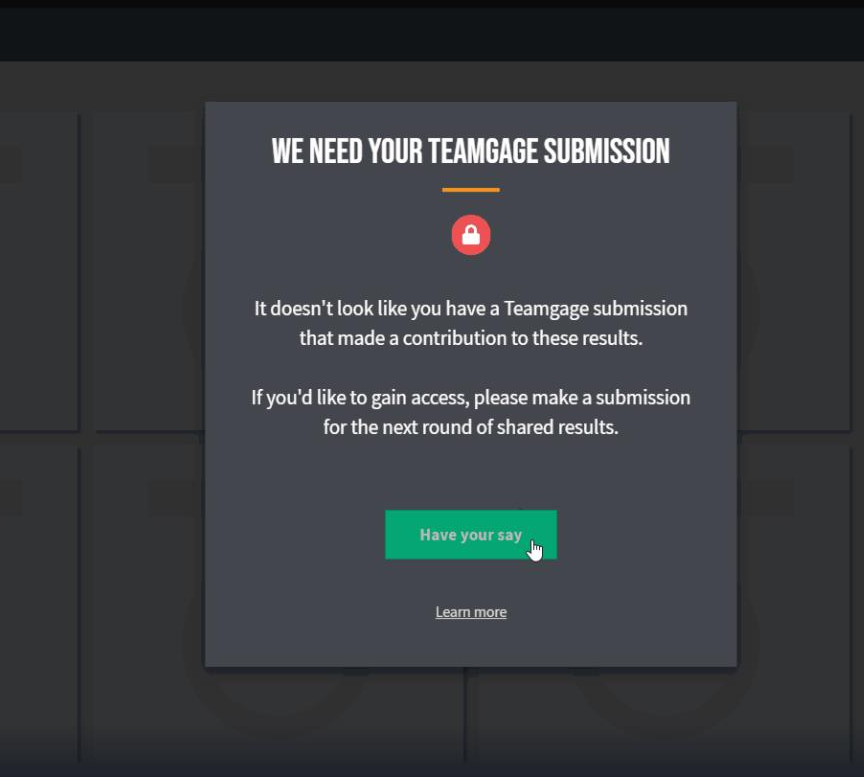 Related Articles

Understanding Your Shared Results

You've just received a link to your team's Huddle Results ! This gives you visibility into where your Teamgage submission is going and how its contributes to your team's improvement. So what is this? Shared Results is all about giving you ...

Why is My Team's Dashboard Locked?

When accessing your team's report, you may occasionally encounter a 'Results Locked' screen - this simply means a few more team members need to contribute a submission! What does it mean if my report is locked? At least four individual team members ...

How to Share Huddle Results with Your Team or Organisation

You can easily share your Huddle results, so every team member has transparency into where their Teamgage submission is going and how that submission contributes to their team and organisation results. Team members can see how engaged their own team ...

Teamgage Huddle Introduction

Teamgage Huddle is an innovative approach to engage your teams in the workplace. It's inspired by sports teams that regularly get together to tweak tactics and improve their team's performance. How does Huddle work? Teams continuously improve Here's ...

See your Personal Teamgage Progress

After you complete your next Teamgage submission tap the View button alongside the title Your Teamgage Process. This will give you a personalised view of your own Teamgage submissions - and how they compare against the Group Average of your Team. ...