Why is My Team's Dashboard Locked?
When accessing your team's report, you may occasionally encounter a 'Results Locked' screen - this simply means a few more team members need to contribute a
submission!
What does it mean if my report is locked?
At least four individual team members need to have made a submission to reveal a dashboard. This is designed to protect anonymity. If your team dashboard is locked, this means that you do not have enough active submissions to generate a report.

As an example
The report below currently has two active submissions, therefore it requires at least two more submissions to be unlocked.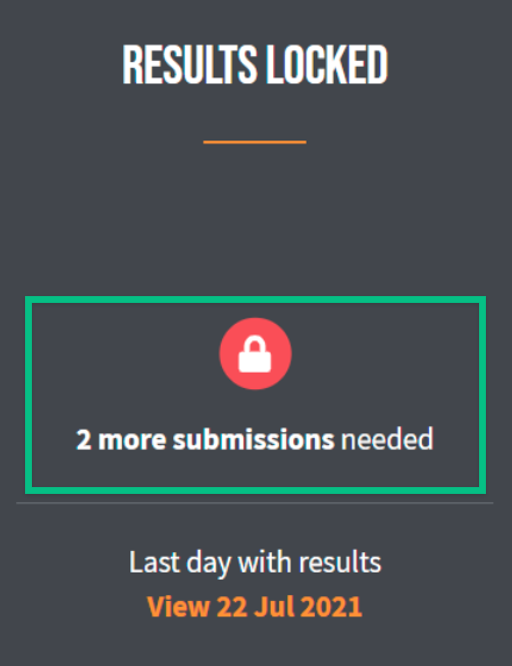 How do I unlock my report?
Your team will need to have at least four active submissions. then the dashboard will automatically unlock. You can help your team to submit with 1-click using the
Remind your team to submit
.
How do I view my team's latest results?

If you have an insufficient number of submissions to unlock your report (i.e. less than four), Teamgage will give you the option to open to the Report last date the Report had sufficient submissions to Unlock (see outlined in green below).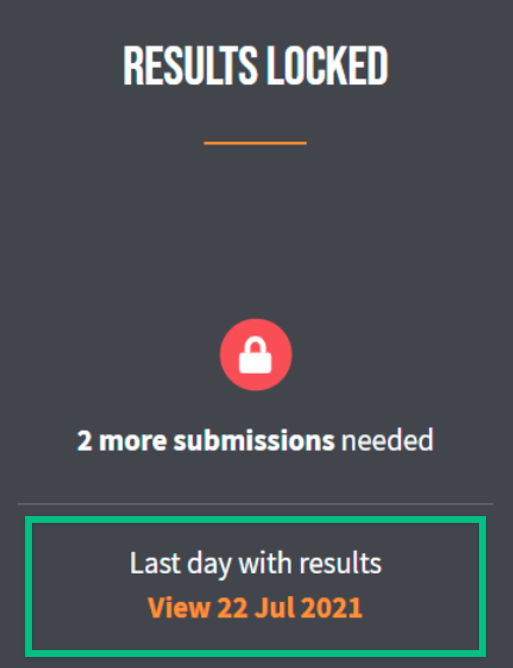 I have less than 4 people in my team, what do I do?

If you have less than four people in your team, please contact your internal Teamgage Administrator. There are a couple of options for enabling you to view results:

Combining your team's results with another smaller team.


Providing you with access to a higher-level report, so that you can still view results.
Related Articles:

Related Articles

View Your Team's Results Dashboard

Teamgage puts you and your team at the heart of the improvement process. It's your process to own and shape with the team but we've a good idea of what works well. To ensure your team's voices are being heard, be sure to regularly review and share ...

I Can't Access My Team Results Dashboard?

If you're having problems accessing your Teamgage Results Dashboard, you can follow the below steps. How to access your team results dashboard Follow the link in your Teamgage notification or simply log into Teamgage using this think. Tip: check your ...

Why are my Shared Results Locked?

To view your team's Shared Results dashboard (Learn about Shared Results), you will need to have personally completed a Teamgage Submission - this will take less than 1 minute (Learn about Submitting). What happens if you try to open your team's ...

Understanding Your Shared Results

You've just received a link to your team's Huddle Results ! This gives you visibility into where your Teamgage submission is going and how its contributes to your team's improvement. So what is this? Shared Results is all about giving you ...

Filtering Team Results Using Demographic Tags

To manage your users' Report access & provide access to subfilter Reports you will need to have an Admin profile within Teamgage. If you can't see that section, speak to your Teamgage Admin or contact our Support Team (support@teamgage.com). ...