As your team start their continuous improvement journey, they will receive various notifications from Teamgage. These are all focused on helping your team work better together.

By default, notifications are sent to the nominated email address of your Team - for both team-members, leaders and your Teamgage Admin. Teamgage is also integrated with Microsoft Teams (
Learn more about Teams
) so you can actually save your inbox and receive Teams messages instead.
Overtime, as we add new features (and based on your feedback), new notifications will be added. However, you can use this article to get a feel for the types of
notifications teams & leaders will receive from Teamgage including:
Welcome to Teamgage

User Submission

User Reminder
Thanks for your submission
Manager Welcome

Manager Reminder

The following screenshots should be used as a guide only. The exact presentation of the notifications in your organisations inbox may differ slightly based on differences in email clients (Eg. Gmail, vs Outlook vs. iOS Mail app.
🚀
Welcome to Teamgage
This is the first notification all users will receive from Teamgage. It outlines how Teamgage works, who we are, and what a user needs to do to ensure the success of Teamgage.





🔔
User Submission
The Submission notification is sent to all users on a regular cadence i.e. once a month to ensure user's submit their feedback.




🔔
User Reminder to Submit
Users will be reminded to submit if they haven't done so recently.






🎉
Thanks for your submission
This thank you is automatically generated from Teamgage once a user has made their submission.



📩
Manager Welcome
This notification is sent to all Managers listed in Teamgage. It introduces them to their role and responsibilities and outlines how to view their team's results.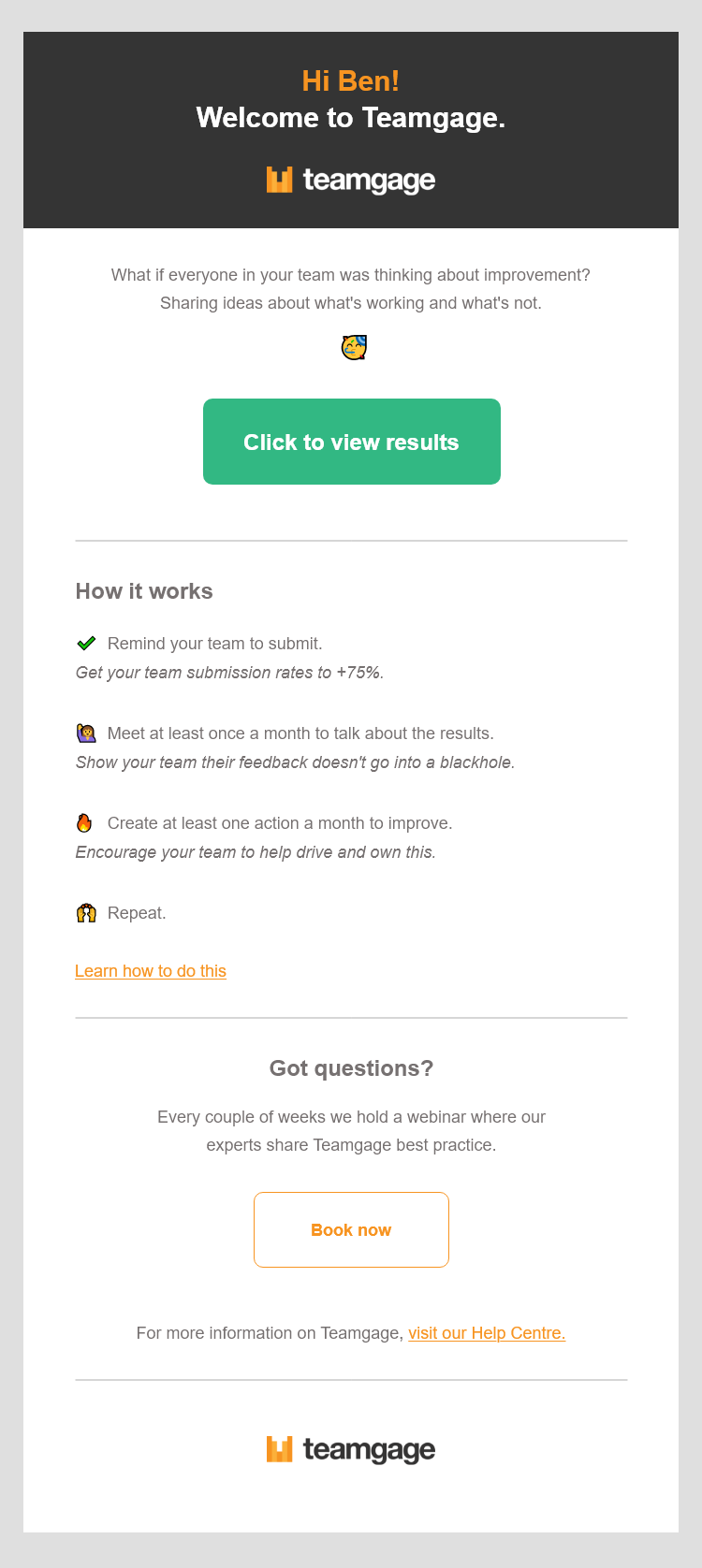 🔔
Manager Reminder
The manager reminder is sent to all managers on a regular cadence i.e. once a month to ensure they view and share the team's feedback.